A Presbyterian Leader post by Peggy Hinds
What are we doing wrong? Ask this question to any pastor or church member and you will get a long list of reasons for the decline in Christianity in the U.S. People are more than happy to expound on the trials and tribulations, the poor quality of leadership, and the lack of commitment of members.
Yes, we are losing members, we have become less relevant to the rest of society, and yes, there is much room for improvement.
For this post, I want to focus on another question: What are we doing right?
Researchers, like Diana Butler Bass, have studied churches that seem to be doing well. As she reminds us in her newest book, Christianity After Religion, Bass lists three shared characteristics in "successful" congregations: enacting justice, hospitality, and prayer. As I was rereading these attributes, I was reminded of another list of three from another prophet  -- a prophet whose list is much better known than Bass's, at least by Bible readers.
Micah 6:8 reads, "He has told you, O mortal, what is good; and what does the Lord require of you but to do justice, and to love kindness, and to walk humbly with your God?"  Let's put these two lists side by side:
        Micah                                                                    Bass
        Do justice                                                              enacting justice
        Love kindness                                                        hospitality
        Walk humbly with God                                            prayer
Churches that Bass found to be thriving were churches that are carrying out God's requirement to do justice, love kindness, and walk humbly with God. How they are doing this takes many forms. You can read some of their stories in Bass's book, Christianity for the Rest of Us.
We have several congregations in Mid-Kentucky Presbytery that are doing this. The one that first came to my mind is Portland Avenue.
PAPC, as we call it because Presbyterians love initials and acronyms, is a small congregation in a poor, urban neighborhood of Louisville. Several years ago, they started an outreach program that included a clothes closet, food pantry, tutoring, and Bible study. They have since added other services, such as affordable counseling. A huge part of this ministry is advocacy for the people of the neighborhood. They work in partnership with the local police, politicians, and other civil services to improve the community. They are enacting justice in tangible and measurable ways.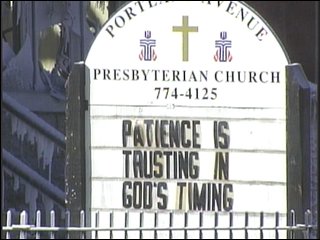 The worshipping community is open and welcoming to whomever walks in off the street. The Sunday service is traditional except that the liturgy is projected onto a screen and the current worships space is open and "exposed" to passers-by. Since a fire destroyed the old church building, the congregation bought an old grocery store and, with the help of many generous donors, now have "church" in space shared with the outreach ministries, and within easy access for folks in the community. They view their neighbors as an extension of the congregation. Their kindess and hospitality extends beyond the walls of their building.
PAPC is a praying congregation. Most of the members are over 65 years old, but they are youthful in their fervency in prayer and faith, as well as their energy in serving Christ by serving neighbor. The pastor, who is the most often the public face of the church, always lifts up the prayers of the congregation, the many supporters from other congregations, and the community as the reason they have been able to do all the ministry they do. Yes, the financial support enabled the new building and the outreach, but prayer has been the foundation of the vision and actions of the church. They are humbled by the grace of God and the generosity of God's people. As they love to recite, "God is good, all the time. All the time, God is good."
This is just one story. There are many others. As I sit in my hotel room in Pittsburgh where the General Assembly meeting begins tomorrow, I share these thoughts in the hope that as leaders we will spend much more time sharing stories of what we are doing right, and less time complaining about what we are doing wrong.